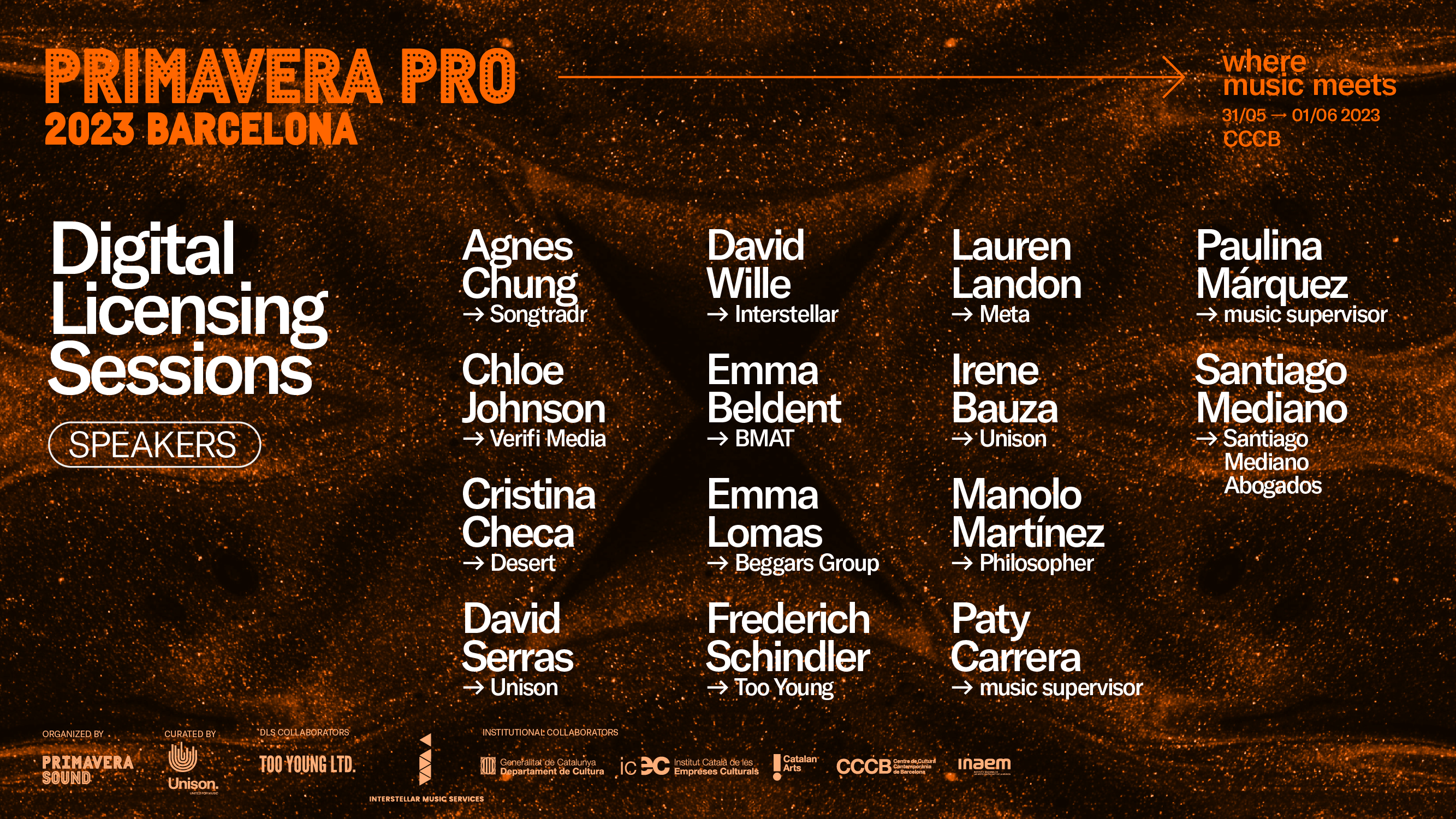 Digital licensing is a topic that year after year is gaining more importance in the music industry, and the second edition of Digital Licensing Sessions at Primavera Pro 2023 confirms it. In partnership with Unison in a second year in a row, and from May 31 to June 1 at the CCCB, the event will feature several renowned experts exploring key topics such as online copyright, metadata, artificial intelligence and new business models in the digital age. 
In addition to panels and workshops, there will be a special focus on sync, with the inclusion of Listening Sessions where artists will be able to present their work to eight music supervisors and sync agents looking for new collaboration opportunities. It is clear that the discussion about the future of digital licensing remains relevant and urgent, and events like this help drive progress towards fairer and more equitable solutions for creators and the industry as a whole.
Find out here what talks and workshops will make them up:
◼Music streaming licensing and UGC platforms: what's next?
Conversation.
Speakers: Lauren Landon (Meta) and David Serras (Unison)
◼Understanding digital royalties like a pro
Workshop.
Speakers: Irene Bauzá (Unison), Emma Beldent (BMAT)
◼Artificial intelligence and the intellectual property perspective: who owns the rights?
Conversation.
Speakers: Santiago Mediano (Santiago Mediano Abogados), Agnes Chung (Songtradr), Manolo Martinez (Astrud CEO, UB), Cristina Checa (AI artist)
◼Love your Metadata
Workshop
Speakers: Chloe Johnson (Verifi Media)
◼Synchronize me: new developments in the world of synchronization
Workshop
Speakers: Emma Lomas (Beggars Group), Paulina Marquez (sync agent, music supervisor), David Wille (Interstellar), Frederich Schindler (Too Young)
◼Supervisors don't have superpowers: how to reinforce your catalog by helping music supervisors
Workshop
Speakers: Paty Carrera (music supervisor)
More information on the Primavera Pro website.