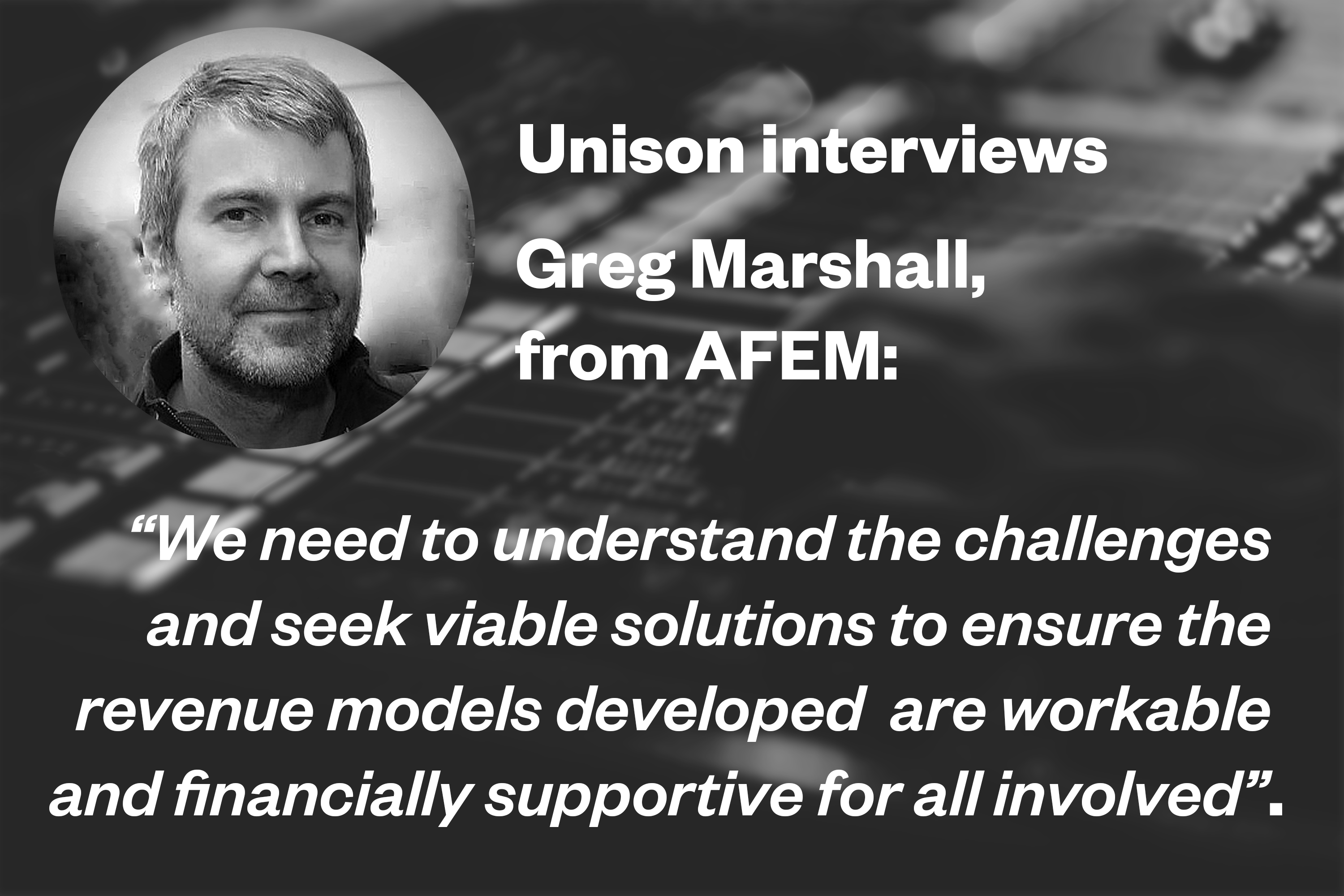 Greg Marshall is the General Manager at the Association For Electronic Music (AFEM), following a 25 year route through the music industry as a drummer, producer and DJ with extensive experience and knowledge within record shops, independent labels, music rights and royalties. We talked with him about the current situation of electronic music in terms of royalties and in times of COVID-19 and the AFEM part in the music sector.
How do you see the work going in order to improve the collection of royalties in electronic music?  
We have seen some good progress in the DJ clubs and festival events areas over the past 6 years since we launched the Get Played Get Paid initiative. The initial focus of this was to advocate for Music Recognition Technology (MRT) solutions to be deployed by Collective Management Organisations (CMOs) so the DJ's event setlist information can be collected in an automated way and more accurate royalty payments then made to the creators and rights holders of the music actually played. We launched that initiative in 2014 when CMOs in only 3 territories (Holand, Australia and France) were using MRT for DJ events. Since then we have seen that number increase to 18 territories in which CMOs now utilise one of the following AFEM member tech solutions: BMAT, DJ Monitor, KUVO, YACAST or ACR for DJ events in either clubs, festivals or a combination of both to enable identification of the tracks played and more accurate royalty payments. 
Lots more work still to be done to encourage the progressive CMOs to deploy these tech solutions at more events and venues, still rely on manual setlist submissions (which tend to be inaccurate) or distributing DJ event royalties using other data sources like radio or broadcast logs −which do not accurately reflect the electronic music DJs play at events.
Next big area of focus is on the huge growth of DJ set live streaming we have seen this year. The policies and processes in place at some of the biggest platforms which provide UGC live streaming do not result in accurate remuneration for the creators and owners of the music played. On platforms like Facebook and Twitch for example, the platform user terms pass responsibility to clear the music streamed onto the DJ/performer or hosting channel of the livestream. In reality this is virtually impossible for any DJ to do. We need to understand the challenges and seek viable solutions to ensure the revenue models and processes developed going forward are workable and financially supportive for all involved. Currently, I'd say the best example platform for live streaming which has licenses and processes in place to identify and pay royalties to creators and owners of the music played in DJ sets is Mixcloud Live. As a starting point for our broader work in this area, AFEM has developed a set of Livestream Get Played Get Paid principles which can be found on the website here.
Still immersed in the COVID-19 crisis, what are the main challenges that the electronic music sector is facing?
The challenges are significant and numerous. Electronic music's ecosystem is built from a deeply interdependent network of organisations, large and mid-sized companies and thousands of micro-companies, freelancers, contract workers and the self-employed. At the center of this environment are live events. The restrictions on live events still in place across many territories has impacted the entire chain of businesses and individuals involved. Clubs, festivals, DJs / artists, managers, agents, event production companies. Government financial support for arts and culture differs across territories so in countries where financial support for clubs and festivals has not been sufficient or available at all, we will see many go out of business and the knock-on impact of reduced gig opportunities for artists once the pandemic subsides and event restrictions are lifted. 
Supporting club venues through this crisis is particularly important. Once a venue goes out of business it is likely to be lost forever. Some venues are looking at opportunities to repurpose their space in the short term −for example Village Underground in East London saw an opportunity to repurpose as a cycle park. Berghain in Berlin has repurposed as a gallery, but for many this is not viable so other means of support are necessary. AFEM recently partnered with Ticketswap to support the launch of their Local Legends initiative which is set-up specifically to provide advice and a toolbox for help with visual assets and fundraising ideas for clubs and venues to engage with their local communities to help these businesses which are crucial to local culture and communities to survive.
Exploring safe-opening event concepts is also an important challenge. Key promoters across Europe are progressing conversations with authorities and medical teams to develop rapid-testing event access concepts for safe club and festivals gatherings without social distancing restrictions. Securing government approval for such trials is proving difficult in many territories but these are essential to establish medically approved and science-based 'blueprints' for viable events to return with proven safety standards which also provide valued experience for the attendees. Primavera Sound in Spain is a leading example of efforts in this area with the trial they are looking to progress at the Apollo in Barcelona. Originally reported here but the trial has since been delayed – hopefully to go ahead in December.  
The pandemic has also re-highlighted the need for AFEM's ongoing focus on mental health. AFEM's Health Working Group focuses on educating the industry, further destigmatising the subject and helping those in need by sharing information. The group's recent work includes a Mental Health panel last month at the Amsterdam Dance Event (ADE), a feature on Beatportal for World Mental Health day, and a series of interviews with artist Yousef, psychotherapist Matthew Benjamin (AKA Bushwacka), and Dr Aida Vazin (AFEM Health Group Co-Chair) for Beatport's ReConnect livestream. The Health Working group has started publishing health advice from its clinical experts as resources the electronic music community can use in order to improve their mental and physical health. These will continue to be published periodically over the months ahead.  
What has been the last initiative of AFEM that you are most proud of and that is bringing value to the sector?
The most recent initiative launched in November is the AFEM Code of Conduct Against Sexual Harassment & Gender Discrimination. Launched with support from AFEM membership of over 220 companies, including SheSaid.So and ADE quoting their endorsement, and media partners Mixmag, DJ Mag, RA, Beatportal and Attack Magazine to help prevent sexual harassment and gender / gender identity discrimination within the electronic music industry. The Code of Conduct can be viewed and downloaded as a PDF here.
Developed by the AFEM Diversity & Inclusion Working Group over many months, through the launch of our code, we hope to enable the industy to identify and correct the mechanisms and attitudes within electronic music culture which enable and facilitate perpetrators of sexual harassment and abuse to go unchallenged and unreported.
Also released this month is the latest episode of the AFEM Industry Insider podcast on live streaming which can be accessed here. An educational session focused on royalties for artists and owners of the music played during DJ set livesteams as part of our Livestreaming Get Played Get Paid initiative.  
However, rather than being proud of any one particular initiative, I feel inspired by the wide range of activities which AFEM is able to progress because we have such a talented and engaged membership who help us drive these initiatives forward. Whether that is work focused around Anti-Piracy, Diversity & Inclusion, Health, Green Initiatives, Metadata, CMO Relations or DSP Relations, they are each of equal importance to ensuring a bright future for electronic music commercially and culturally.
In AFEM there are several stakeholders, often with opposed interests −right holders and their representatives vs. users, DSPs, etc. How to reconcile everything? What is AFEM's strategy for building consensus and solutions?
Finding consensus on key subjects across our very broad membership of business types in the electronic music ecosystem is not a simple process. We involve and consult our membership widely to get informed and balanced positions on the important topics, and then present proposals to our democratically elected Executive Board for input and approval before publishing a public position. Although this can be a longer process than for some other associations, who perhaps only represent members in one industry sector (a labels-only association, or a publishers-only association for example), the result of our process provides a position which considers all angles and stakeholders so we can move ahead with solution-focused actions aimed at benefiting the wider industry of electronic music.    
What is the importance of correct documentation in music monitoring and distribution? Is the black boxes' fight going this way?
The importance of accurate music rights data delivered to all parties in the music supply chain is absolutely essential. 
If you create original music, perform on, produce or remix a recording; to earn any royalties from your music being used in any scenario, you will need to become a member of the relevant performing right, mechanical right and neighbouring right collection entities and ensure your musical works and tracks are registered with them. 
Artists, managers, labels, publishers and distributors should seek to ensure their recordings and associated metadata are delivered to the key music recognition tech services so they can be identified when they are played, whether streamed, played in clubs, at festivals, on radio, TV or downloaded (for further reading on the importance of MRT, see this great rightsHub article here).
The development of Blockchain technology solutions does represent an opportunity for dynamic music data management and a chance to bring the fragmented recorded rights and authors rights copyright data sources from across the industry together to be accessed and updated as a single point of truth −but getting the whole industry to engage with any one solution will be a key challenge. Whatever the basis of the technology (Blockchain or otherwise), it can only be accurate and complete, if accurate and complete data is supplied into it.
About AFEM: Association For Electronic Music.
AFEM is a global voice for the electronic music industry, representing community, culture and commerce. AFEM's membership spans industry sectors from Labels to Live, Managers to Media, Retail to Rightsholders, Technology to Talent Agencies. AFEM is made up of over 220 company members across 25 countries ranging from industry leaders such as Beatport, Boiler Room, Defected, CAA, FUGA, !K7, Mixcloud, Mixmag, Native Instruments, Pioneer DJ, Soundcloud, Traxsource, WME through to emerging start-ups, leading managers, promoters, publishers and many others. AFEM connects its worldwide membership to develop opportunities and enable change.