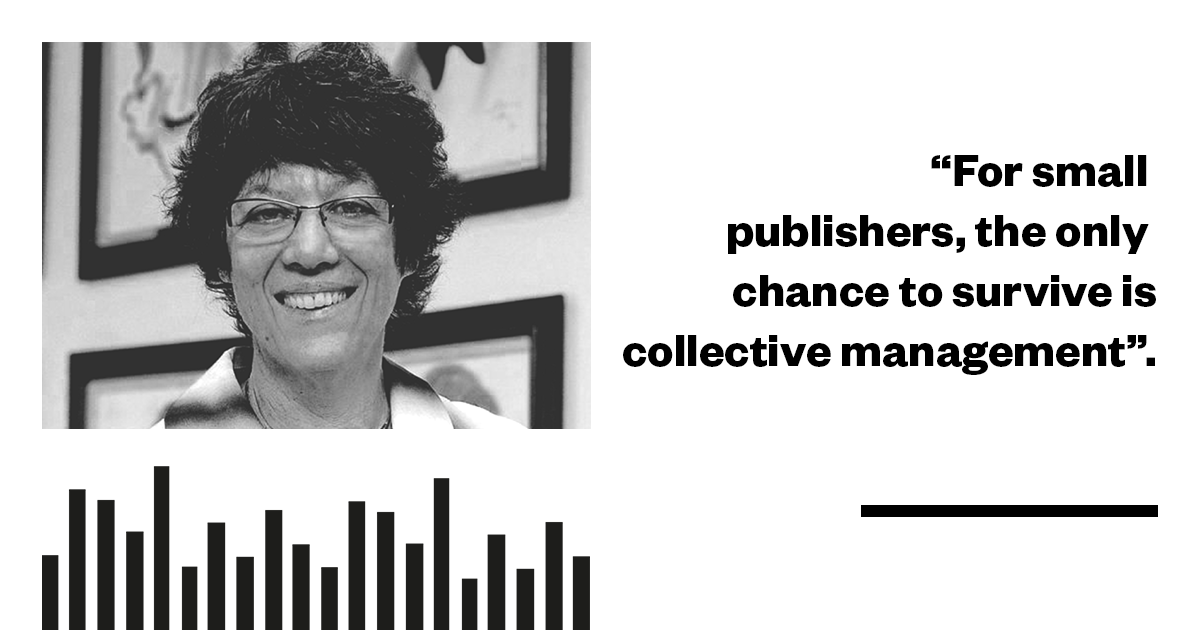 Marisa Gandelman, lawyer specialized in Copyright, Teacher and Doctor in International Relations, began her professional life as a pianist and music teacher. She later graduated in Law, was a Professor at PUC-Rio in the Copyright course and provided assistance to authors and other professionals in the creative industries. She was Executive Director of the Brazilian Union of Composers-UBC, during which time she served as a member of the CISAC Board of Directors.
We spoke with Marisa about her family business IANAH and the potential of the Brazilian music industry.
We know that IANAH is a very special project within the publishing world! Why was IANAH born and what has the journey been like so far? Tell us a little about your history and your relationship with the composers!
IANAH is a family business. My son and I formed a company to establish a legal entity that legally represents us in the activities of each of us, which are related. Alberto Continentino, my son, is a great musician, excellent composer, producer and instrumentalist loved by musicians. I am a copyright attorney and have a long experience in the music business. Before Ianah, I was a partner in a publisher / record label and was president of the publishers association for a time. Upon completion of my PhD in International Relations, I was appointed Executive Director of UBC.
After I left my position at UBC, we created Ianah to organize our activities. I trained and put a publishing house with a repertoire of composers to work. Little by little, his partners and partners of partners were arriving. They are a group of excellent songwriters, incredibly creative, competent and professional. Before becoming a lawyer, I was a music professional for many years. I was a professional musician and taught music for a long time. I know the life of musicians and composers. I have lived with them all my life. My mother is our teacher, I am from a family of musicians.
What are the biggest challenges for IANAH and its members in the era of digital music consumption?
The greatest challenge for a small publisher is to find reliable and efficient services to manage the repertoire, considering that a large part of the traditional income of publishers is transferred, with increasing intensity, to online services, a space in which millions of songs coexist together and generate micro income. A small and sophisticated catalog generates micro income. Consequently, the cost of managing the repertoire is higher than the income  produced, making it economically unfeasible.
In the digital world, in an environment in which tens of thousands of new recordings are made available to the public every day, large catalogs survive that tend to be added more and more. We know the size of the online market and the infinite potential for growth. In this reality, the fight for market share is extremely fierce, the trend of concentration is relentless. For the little ones, those who cultivate a boutique brand, the only chance to survive is collective management.
In Brazil, collective music management is traditionally involved in public performance. Therefore, all other rights are left to the publishers. The independent publisher cannot collect its fees directly from service providers. I would say that in Brazil there is a lack of services that offer access to software for the management and maintenance of repertoire data, as well as processing services for the distribution of the amounts received. I miss solutions that allow users to share the costs of developing and maintaining software infrastructure and management intelligence. Regarding the exterior, the situation is even more complicated because the solution of the traditional sub-publisher does not work for small catalogs that require work and little income. That is why I have been trying to meet companies that operate in various regions of the world, offering services to music publishers, including small catalogs. This is a topic that interests me a lot.
In all the media for some years there has been talk of the potential of the Brazilian music industry as an incredible force capable of conquering the 4 corners of the world with its melodies. What remains to be done to make this a reality?
You can't think like that anymore. The streaming environment makes available to the public, in the four corners of the world, "all" the existing repertoire of recorded music. Brazilian music is in this universe of music and there is no shelf or wastebasket to separate. People search for music, listen to it, like it, the algorithm observes, offers new music and this journey takes us to so many places and times. This breadth of scope denationalizes. Everyone looks for and listens to the music they identify with, or just the music they like. There are people who are more curious and there are people who are more conservative, who never tire of their favorites. I don't know if there is still space, or if this idea of the strength of Brazilian music in the four corners of the world makes sense. I think there is no longer the "label" of Brazilian music that existed on record store shelves.
How to reconcile the career of a lawyer like you with the management of a publishing house? Does your past as CEO of UBC help you?
I am not acting as a lawyer, strictly speaking. I am knowledgeable on copyright issues and the business of the creative industries. I have knowledge in the area, long experience and interest in everything related to this universe. So, I see myself more as an advisor, a consultant in the area of the copyright business. The publishing is part of this. I work for various composers, either providing consulting services or as Publisher documenting the repertoire, authorizing, charging, receiving and seeking opportunities for catalog development.